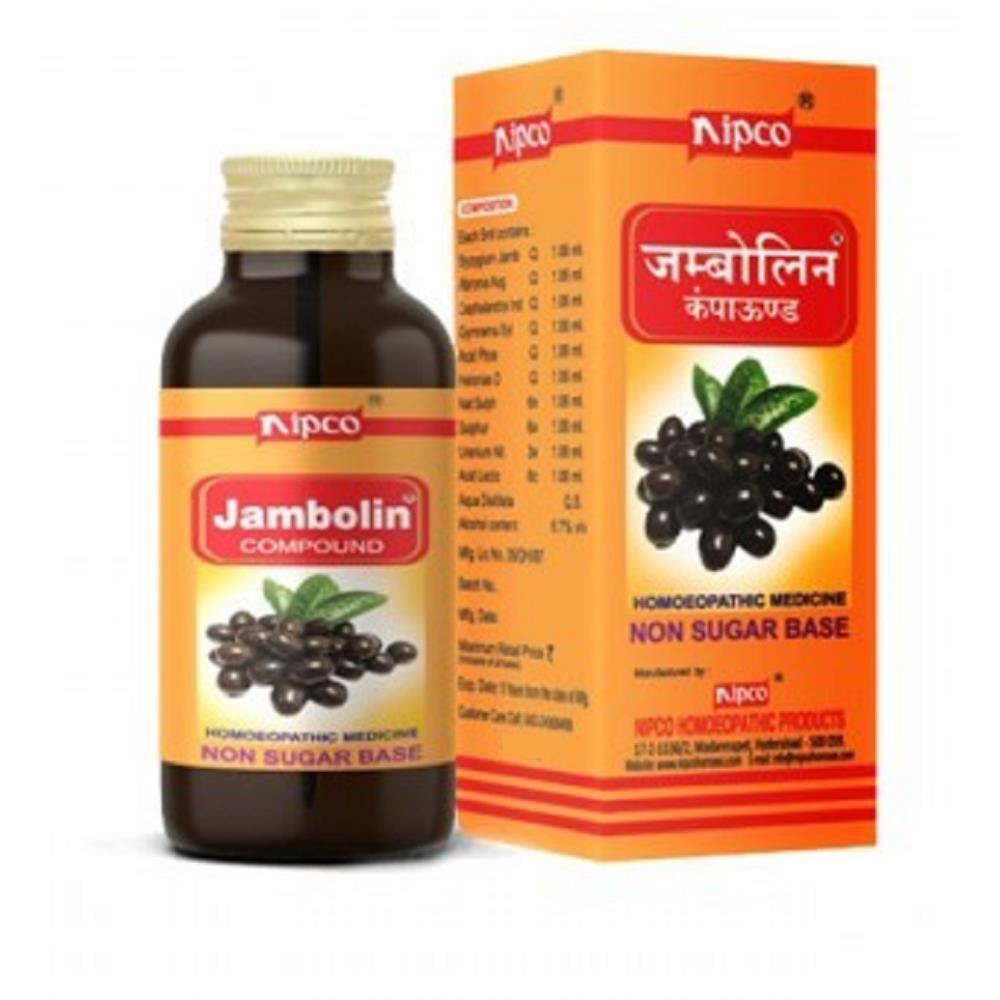 -18 %
Nipco Jambolin Compound 450ml
Manufacture
Brand
Nipco
Item Form
Syrup
Quantity
450 ml
Benefits
Benifits
Lowers Raised Blood Sugar Level, reduce burning urine, tingling palms Increased thirst, increased appetite and frequent urination. High Blood Sugar (Hyperglycemia) and early symptoms of hyperglycemia. Controls and regulates Blood Sugar levels. Excessive excretion of urine. Burning of hands and palms.
key ingridient
Key ingrident
Syzigium Jambolanum Q: Diminution and disappearance of sugar in the urine. Prickly heat in upper part of the body; small red pimples itch violently. Great thirsts, weakness, emaciation. Abroma Augusta Q: Excessive thirst with dryness of mouth. Patient suffers from insomnia and prostration, and patient is averse to do any physical and intellectual labour. Urine profuse at night. Cephalandra Indica Q: Bilious complainants, boils and carbuncles. Profuse urination, giddiness. Weakness & exhausation after urination. Excessive dryness of mouth with great thirst.Gymnema sylvestre Q: Blood sugar regulation and glucose metabolism. The active components responsible for lowering glucose are the gymnemic acids. Acidum Phosphoricum Q: Frequent urination at night. Phosphaturia. Cramps in upper arms and wrists. Great debility. Natrum sulphuricum 6X: Thirst for something cold. Bilious vomiting, Excessive seceretion of urine. Sulphur 6C: Frequent, profuse, and watery urine, sometimes gushing out with much force.Cramp in soles at every step, Jerks and shocks in certain parts or throughout body. Helonias Q: It is used for high blood sugar levels when there is excessive thirst, restlessness, melancholia and emaciation. Uranium Nitricum 3X: Glycosuria, Raised sugar with emaciation (although ravenous appetite), debility and flatulence. Copious urination, diuresis Acid Lactic 6C: Frequent desire to urinate large quantities, the attempt to retain it causes pain indicates Lacticum Acidum
Side effect
side effect
Always keep a gap of 15 minutes before or after meals when you take medic.
Discription
Discription
A homeopathic combination of medicines that act on Maintaining the Blood sugar levels. It helps to maintain sugar level in urine and blood. Also helps in Raised blood sugar levels with excessive thirst or hunger or urination, burning of hands and feet and pain in the calf muscles.
Dosage
Dosage
Adults: Two teaspoons before meals 3 times a day or as directed by the physician.
Stock:

In Stock

Quantity:

450ml

SKU:

blodlvl

Nipco
It is also known as : Jambolin, sugar drops